WEBINAR: Recruitment & Retention – How to Maximise your Employment Benefits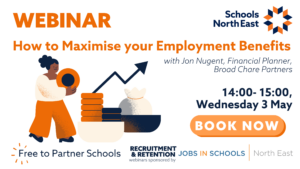 In the final recruitment and retention webinar for the year we will be joined by Jon Nugent from Broad Chare Partners.
In this webinar Jon will outline how effective Retirement Planning can maximise your employment benefits provided by the TPS & LGPS schemes. You will develop your knowledge of the quality of your pay structure and benefits package provided by the TPS & LGPS schemes, for you and for your staff. This includes Death in Service, Pension Benefits and Sickness Cover.
You will develop your understanding of the retirement process, the importance of putting plans in place early and the options available to maximise your provision.
SPEAKER: Jon Nugent, Financial Planner, Broad Chare Partnership
Jon has over 33 years' experience of working in financial services, including over 20 years' experience in providing high quality, trusted financial advice in wealth and investment management. Jon is a specialist in advising Education Professionals and their families and has over 14 years' experience of working with teachers. He has worked with staff from most of the schools and colleges across the North East and built a strong reputation for providing an honest and trusted service.
COST:
Free to Schools North East Partner School Members
Free to NNoSS members
£25+VAT to School Non Members
THIS WEBINAR IS FOR SCHOOL DELEGATES ONLY